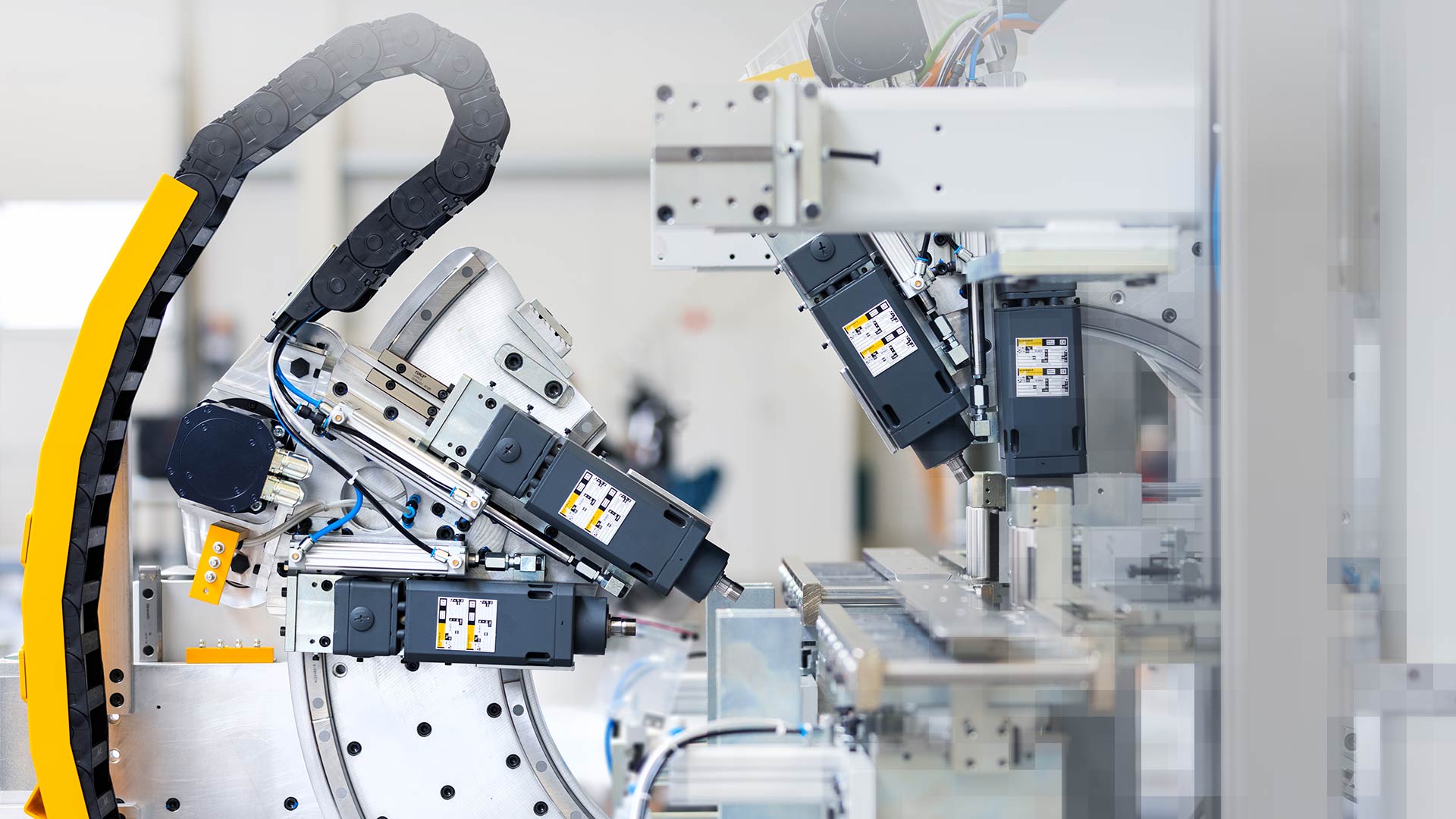 Profile processing lines for PVC and composites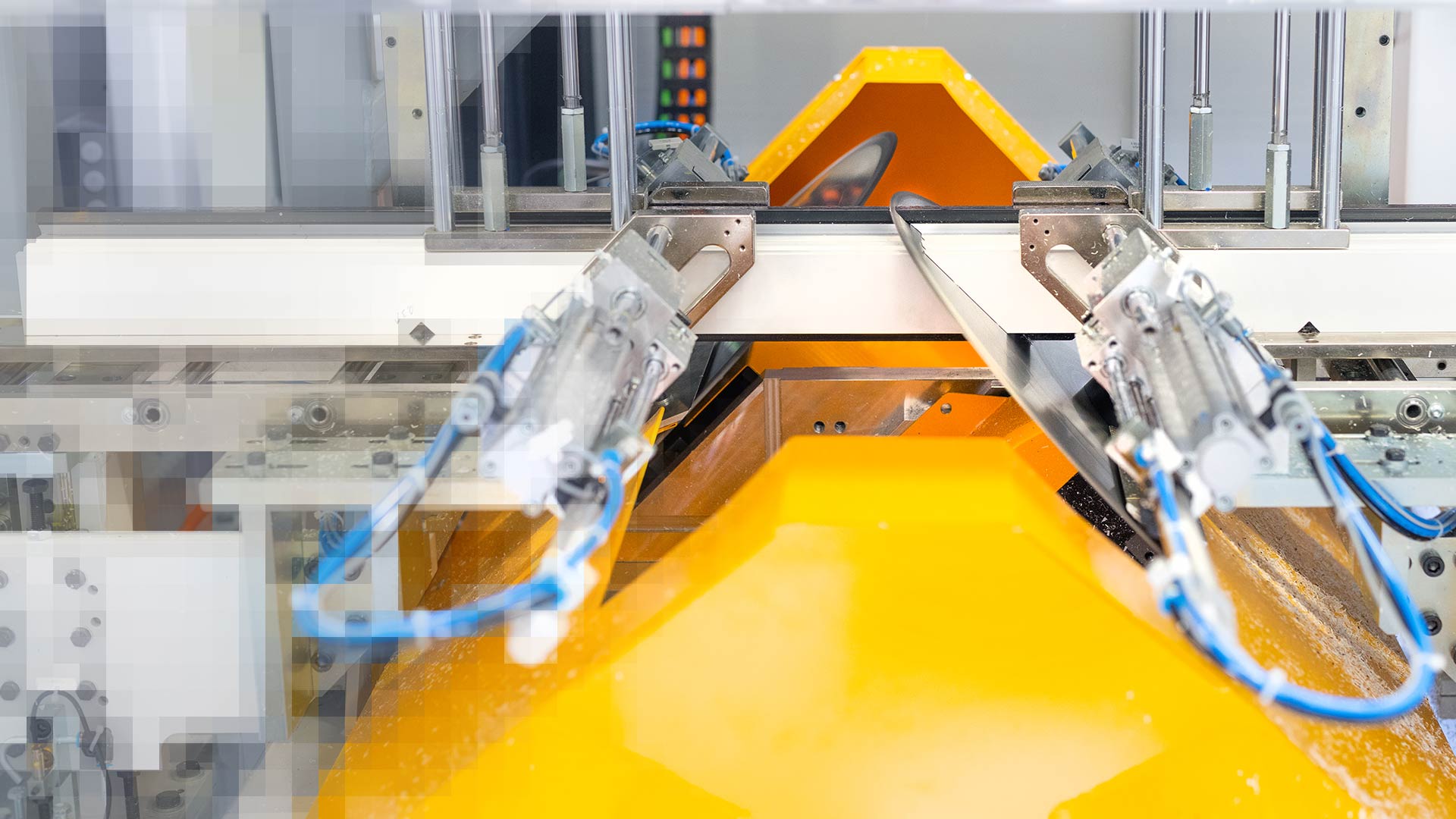 Automated like only Schirmer can
Machines for automatically processing profiles made of PVC
Schirmer's profile processing lines for PVC and PVC composites have modular structures. The cutting and processing centre BAZ 1000 forms their core. The tool and motor equipment is optimised for processing PVC and composites and will fulfil your specific production requirements. The same thing applies to the level of automation: Schirmer delivers high quality throughout the entire spectrum and specialises in innovative, high-end solutions. One or more rod processing centres, a steel centre and a fully automatic sorter can be combined with the BAZ 1000. The result is custom profile processing lines that can simply accomplish more.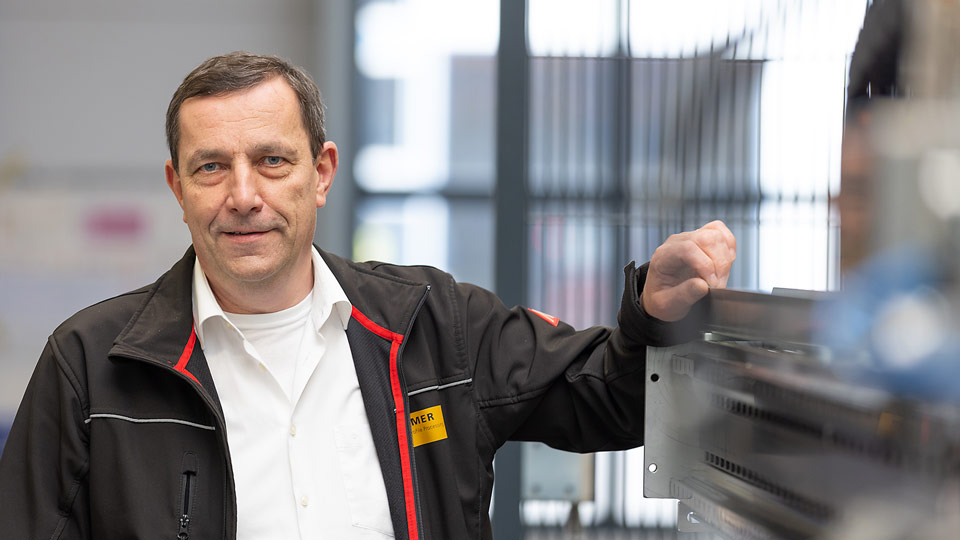 Roland Vogt
Member of the Executive Board
Telephone: +49 (0) 5246 9213 13

Schedule a return call
Write an e-mail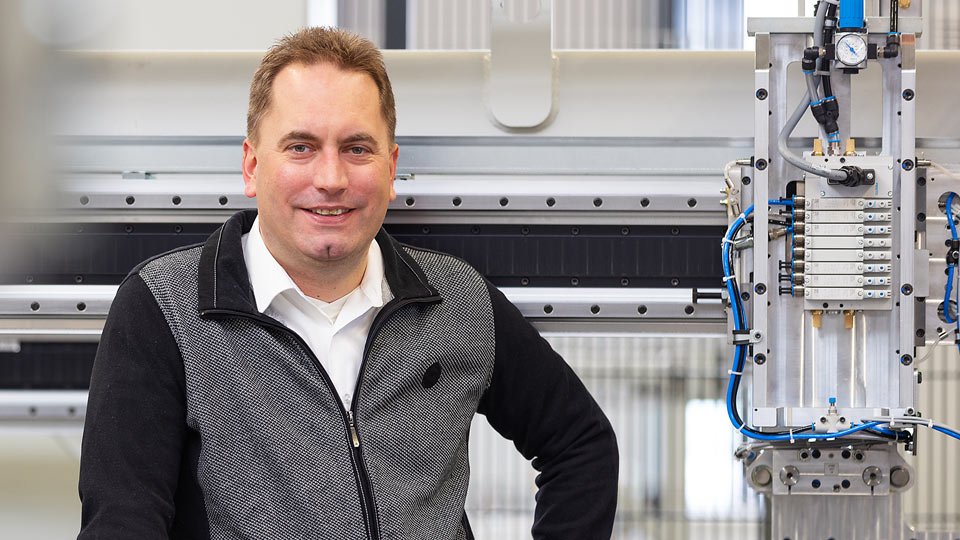 Michael Edenfeld
Head of sales
Telephone: +49 (0) 5246 9213 15

Schedule a return call
Write an e-mail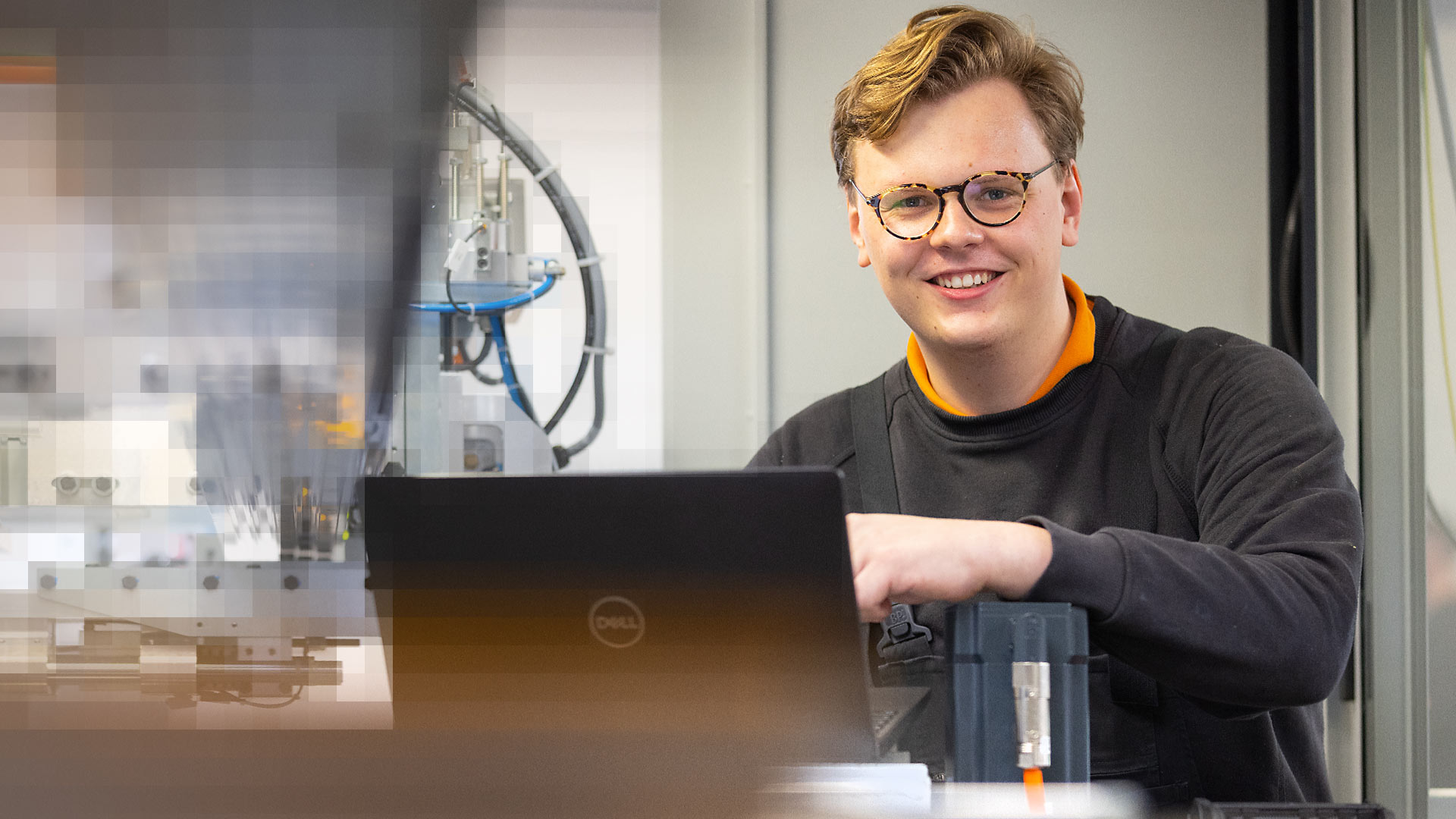 "Commissioning concerns not only machine construction but also processes that function well. Together with our colleagues at Beckhoff, we ensure that the system functions as well as we promised our customer!"
BAZ 1000 cutting and processing centres
Schirmer's BAZ 1000 makes it possible to machine profiles using the through-feed method. It shows everything we can do: Transport grippers with extremely dynamic linear motors precisely position the profile rod. Profiles are transported quickly and gently from one processing module to the next! All processing steps are designed customer-specifically and meet your needs in every detail – up to and including demanding contour processing.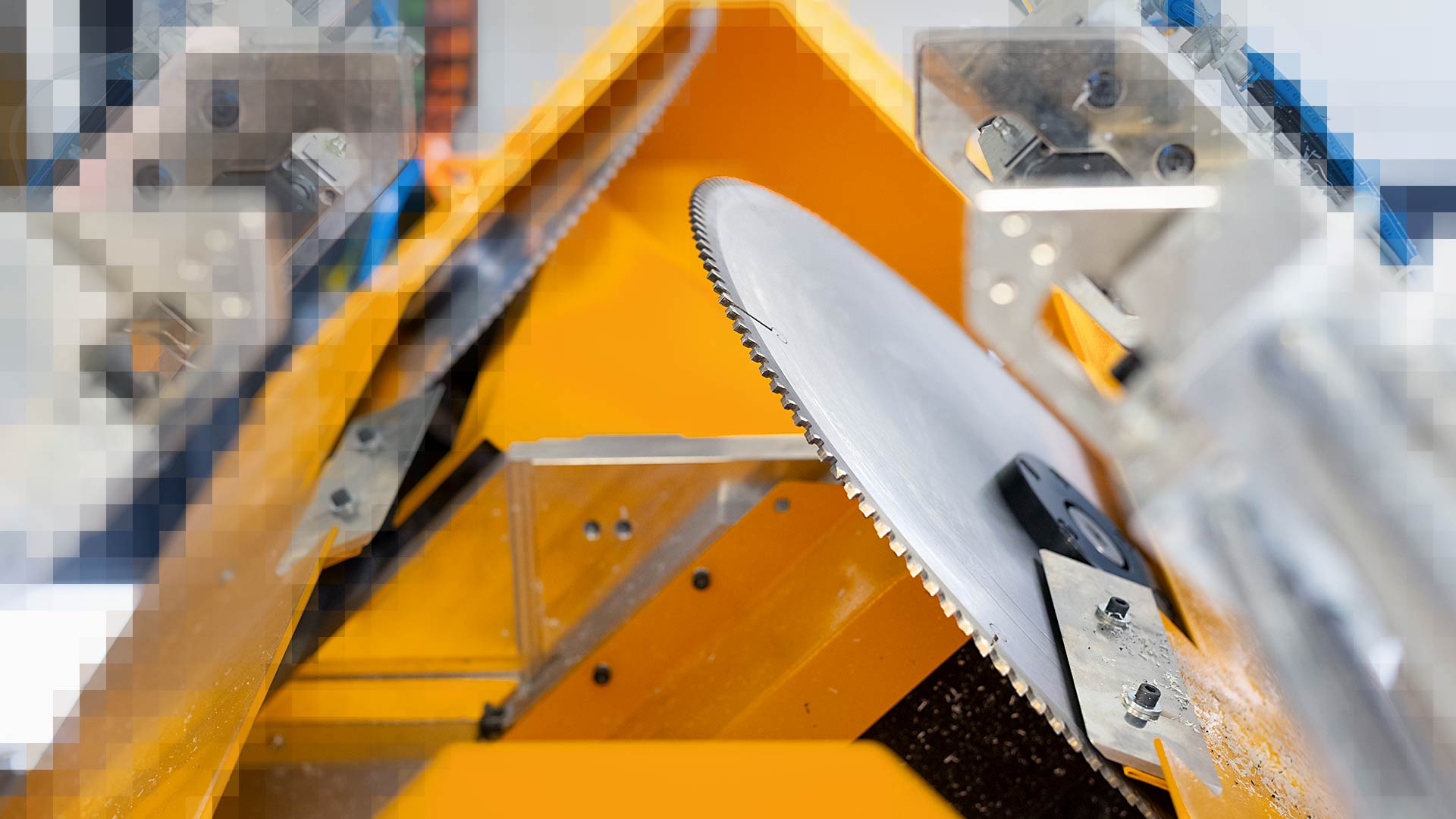 The basic configuration at a glance:
Feed magazine for inserting profile rods
Modules for milling and drilling work
Sawing units
Belt conveyor for transporting away finished profile rods
Label printer
Height measurement for profile tolerance compensation
Other options that are available:
Contour and seal milling station
Mitre cut milling
Seal milling
Seal punching
Automatic labeller
Length measurement with optimisation
Overall depth measurement for tolerance compensation
And much more
Head straight to Schirmer for precision and performance
Schirmer's BAZ 1000 cutting and processing centres can be delivered as Basic lines, Medium lines or Tandem lines. Whether you do business in the skilled trades and crafts, the industry, a manufactory or at a large company, Schirmer has the right solution for window and door construction and many more sectors. We are ready for everything professional profile processing needs to deliver today and everything tomorrow will bring.
Continuous processing with two transport grippers. Profiles are processed in succession, rod by rod. Especially compact construction for short processing paths. Greatest precision at good performance capabilities.
Continuous processing with three transport grippers. While one profile rod is being processed in the machine, another can be fed in. Greatest precision at high performance capabilities.
Continuous processing with four transport grippers and a transition area.
Two profile rods are processed at the same time independently of each other. High-end automation for top precision and the best performance
Rod machining centres - SBZ
With a robust construction that minimises vibrations and maximises quality, Schirmer's rod machining centres are ideal for processing PVC profiles with steel reinforcement or steel stiffeners. Profiles are processed using the through-feed method, and metal fittings are applied to the profiles especially gently, precisely and reliably. The profile rod is positioned quickly and precisely by transport grippers featuring extremely dynamic linear motors. Flexible interaction with the cutting and processing centre BAZ 1000 is guaranteed. They are connected via a fully automated lateral transport module.
The rod machining centre of the type SBZ is designed for processing plastic profiles that are reinforced with steel. An incredibly large range of machining processes can be realised on a customer-specific basis: Screwing, CNC-drilling, dowel drilling, groove milling and locking part placement stations. Dowel drillings can even be made through steel!
Sorter
The particularly robust sorters from Schirmer are combined with the cutting and rod processing centres in production. They have three NC-controlled axes. Servo engines produce their drive. The automated sorters work in sync with the profile processing line. Processed profiles are automatically and systematically placed in harp racks so that all profiles are ready for removal in an ordered sequence.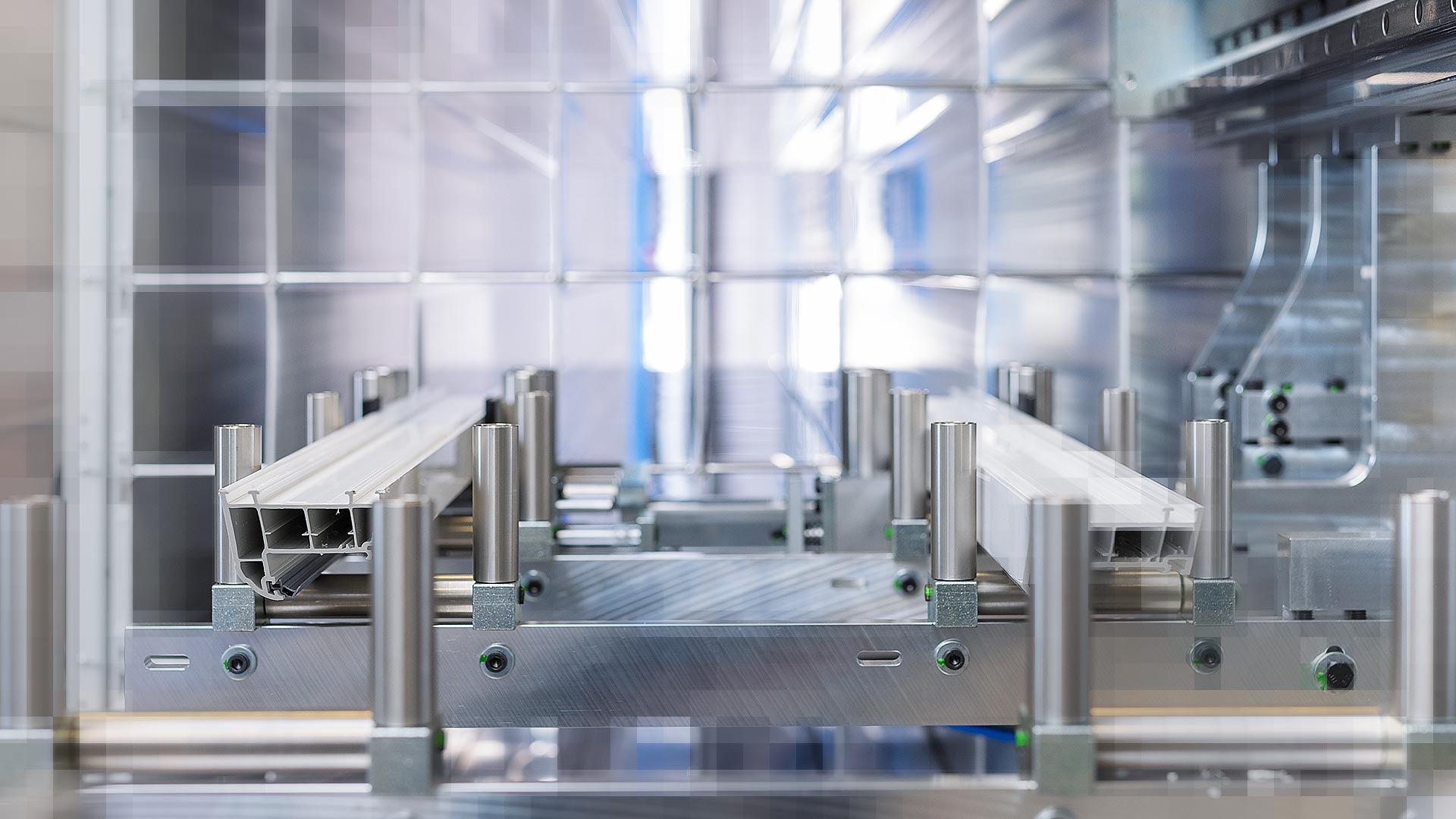 Multicut Composite
The automatic cutting machine Multicut Composite from Schirmer was designed especially for cutting special profiles with a wide range of cross-sections. In the basic configuration, one highly flexible sawing unit can be used to process vastly different profile geometries.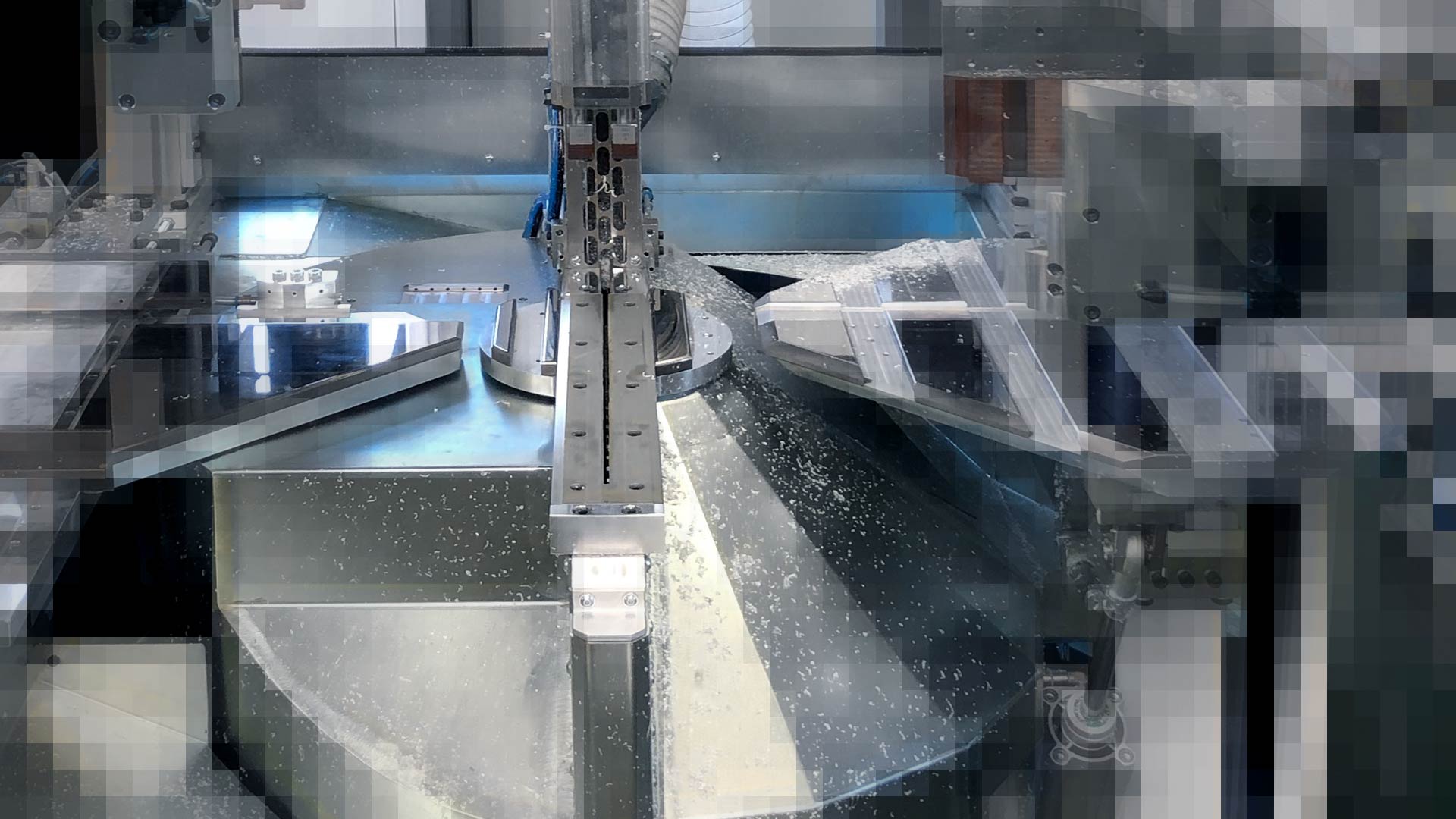 The basic equipment at a glance:
Automatic feed magazine
Transport gripper with linear drive for positioning
Profile clamping technology with CNC positioning in the x-axis
Conveyor belt for transporting away profile waste from the sawing area
Sawing unit, swivel range from 45° to 135°
Noise absorption hood
Beckhoff PC control (TwinCat) with remote maintenance
Belt conveyor for transporting away processed profiles
Protective partition (protective fence)
Automatic label printer
Extraction system
Software for optimising remaining pieces
Also available:
The Multicut (Composite) can be expanded into a flexible processing centre for special profiles and special constructions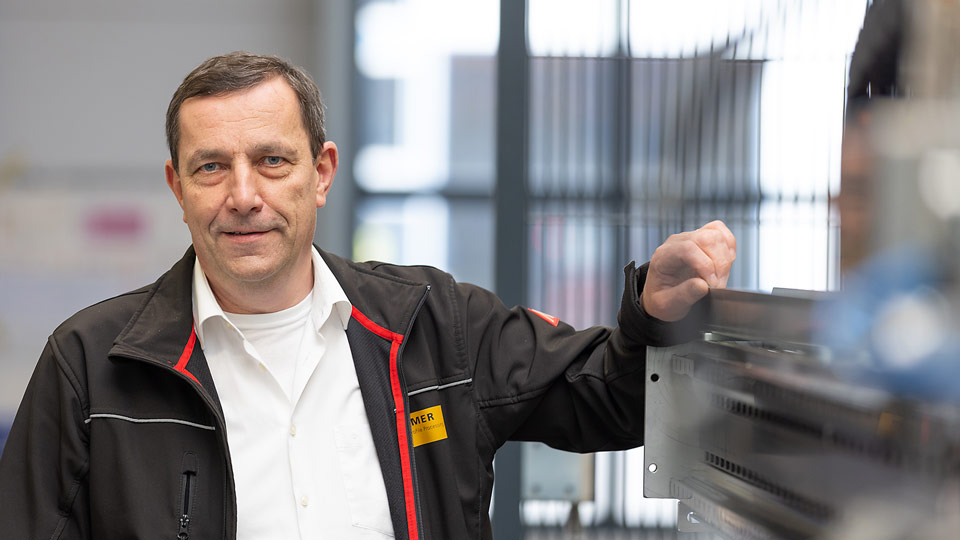 Roland Vogt
Member of the Executive Board
Telephone: +49 (0) 5246 9213 13

Schedule a return call
Write an e-mail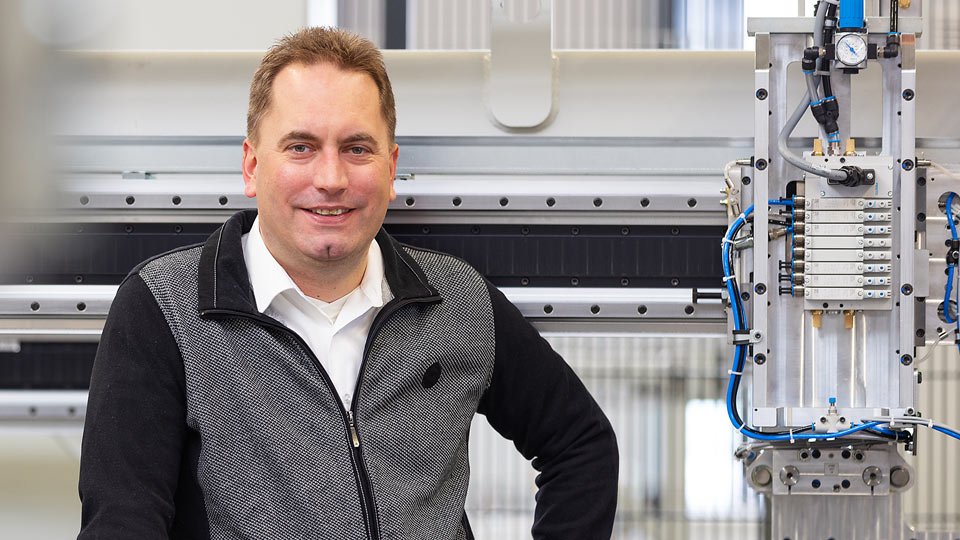 Michael Edenfeld
Head of sales
Telephone: +49 (0) 5246 9213 15

Schedule a return call
Write an e-mail